The last 5 years has really shown us that when a small business embraces an online strategy, they're better positioned to achieve success and win their local market.
In our last podcast, with Shawna from Homegrown Oregon, we talked about how important getting traction was online to the quick accelerated growth she has seen.
A local SEO strategy means putting your company's offers and answers in front of local customers at the moment they are searching for what you offer.  The value of being seen at those times can be incredibly lucrative for a small business.
What Is A Local SEO Strategy?
A local SEO (Search Engine Optimization) strategy is fundamentally different than a broad SEO approach.  A locally focused plan for SEO includes gaining trust from search engines like Google on a localized level of internet activity.
The benefits of creating an SEO strategy at the local level means that you're less likely to be competing with larger businesses who have spent years and large budgets to rank high in search results.
By following the advise in this blog post, you'll be ahead of the 90% of other SMB's that do not put in the full effort, and you'll start to be rewarded with more eyes on your business.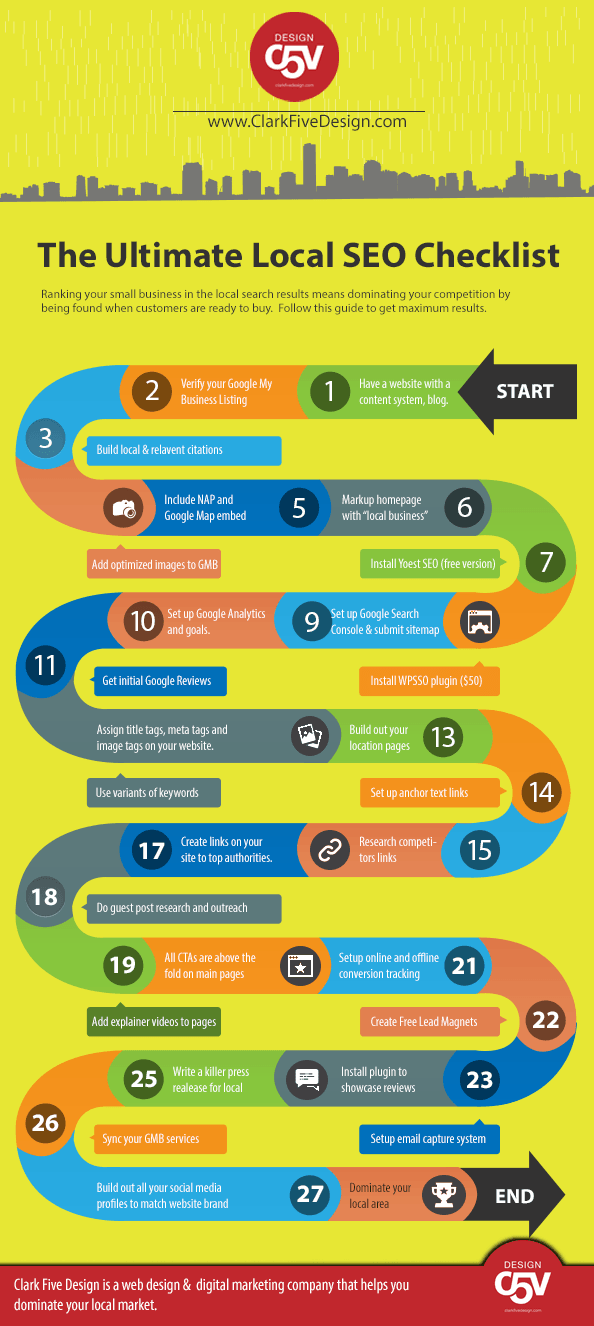 Complete Local SEO Checklist
First you'll need a website with a built-in CMS or Content Management System.  Unlike a website created like a brochure, a CMS enabled website allows you to continually shape and update the contents of your website quickly with tools like blog posts, photo galleries and special offers. (We use the WordPress platform.)
Verify your Google My Business ranking.  Super simple, super essential.  You can do this by logging into your GMB account and verifying via phone or postcard.
Build out key and relevant citations. Frankly, it's so much easier to pay someone like Clark 5 Design to build these out verse the time/effort to do them.
Add optimized images to your GMB account.  3 interior photos, 3 exterior photos, 3 team photos and at least 1 for each service.  Go professional and don't use stock images. (See this post.)
Make sure to have you business NAP on each page. (Name, address, phone #.) Also, embed a Google map with your business address on your website.
This might be more technical, but add Schema markup to your website with "local business" being cited. Neil Patel has a great post on this with help. Read it here.
If you're using WordPress, install the free version of Yoast SEO plugin to help structure pages to rank.
Instal WPSSO plugin to make your website and content look great on all social media outlets.
Set up Google Search Console for your website and submit your site-map.xml.  If you don't know what this is, contact us.
Set up Google Analytics for invaluable information.  Additionally, set up goals within analytics so you can measure success with data.
Get Google Reviews!  Getting reviews for your business is a huge factor in showing up #1 locally.  We automate the process for you. (C5D Review System)
Make sure that all your images have an alt tag attribute that describes the image.  Pro tip: use keyword variants to really give yourself a boost.
Build out location pages for your service areas.  This isn't necessary, however, it's easier to rank one page for one service area rather than ranking your homepage for 5 service areas.
Set up anchor text links throughout your website.  Example, "check out our blog for more information." See the link to another page?
Take a deep breathe, you've got this. 😉
Research your competition using free resources. Semrush, Moz, Ahrefs, Brightlocal.
Create links to authoritative websites within your industry.  An example of this would be a dentist linking to the National Dental Association.
Do guest post outreach.  There is almost no better way to gain rank in Google for your site than doing a great blog post on a website that already has a lot of visitors. We can help you with this.
Videos are becoming big online and although it can be super nerve racking, shooting explainer videos for key pages on your website has a magnitude of value.
Use your CTAs, or Call-to-Actions.  Stick to one or two of them per page and always make them visible right upon screen load.
Conversion tracking is critical if you're doing any form of advertising online or offline.  Why? because how do you know if your business dollars are gaining business unless you track it smartly?
You're an expert in your field right?  Prove it to your audience and give away something for free that demonstrates your expertise and tells others why they should give you their money.
Next, give that something away by offering it in exchange for an email address so that you can keep in contact with all your potential customers.
If you've got reviews on Google, Yelp, Zillow, Angie's List, HomeAdvisor or anywhere?  Showcase them on your website with a WordPress plugin that keeps the reviews credibility intact.
Write a killer press release and send it personally to local sources with a few great photos.  Then, send it out nationally and see who picks it up.  Ask us for help if you need it.
Synchronize your GMB services with those on your website.
You've probably already done this, but create profiles for your business on all the social media platforms, even the ones you don't think you'll use.
I hope that the list above is helpful in giving you a solid direction for local SEO growth for your small business.
As a company that specializes in short and long-term small business growth, we know that SEO is a longer term play but almost always sees the biggest financial return for small businesses willing to put the time and money into it.
If you need help or would like for the experts to partner with and take the tasks off your hands, Clark Five Design is ready to start the conversation.
This article was written in partnership with our friends at Greatness Digital, who specialize in lead generation, digital marketing and relentless innovation.