Second to your website, the Google My Business profile for a small business has the most impact on new and reoccurring revenue from online searches.  Best part, it's total free, but knowing how to best use it is not always intuitive. Don't fear, Clark Five is here, we'll teach you how to best use GMB to maximize your results and dominate the local competition.
Don't think that you need to optimize your Google My Business?
Think again.
People are searching on Google for your products and services right in your ideal locations and right now.  We're talking ready-to-pay customers, that like 74% of other modern consumers, will chose the first business that meets their expectations.  Don't let that be your competition.
Data provided by Google themselves and deciphered by Clark Five for you.
Match your Website and Google
Google gives the most credit to companies that they trust and you earn that trust by having consistent information across all your assets.
The three most important pieces of information that every business needs to have match are:
Your Company's Name – This may seem obvious, but making sure that your companies name matches exactly what you have on Google My Business is crucial, even if you have multiple locations.
Company Address – Google will send out mail verification of your physical address to add credibility, however, having your address match is important.  Tip: We recommend that you even keep the address in the preferred google format on your website. (Example: 123 Main St, Philomath, OR 97370)
Phone Number – If you serve local customers, it's a good idea to have your website mobile friendly so that a user can easily call your place of business from both Google and your website. Pro tip: Do not use call tracking numbers unless you intend to have ALL your online phone numbers be that number, we are aiming for consistency.
Assign The Best Google My Business Categories
When setting up your GMB profile, it's important to assign the most accurate business category as possible. As of late 2021, there are almost 4,000 different categories listing by Google, so try to get as specific as possible.
Once you've chosen your ideal category, think twice before adding additional categories. Each additional category you add spreads your businesses exposure a little thinner. So if you offer one primary service and a several secondary, it might be ideal to not list the others so you can get laser targeted primary searches.
Additionally, be careful to not add additional categories that are actually amenities. For example, a hotel that lists having a wedding venue as a category will have the same effect as above.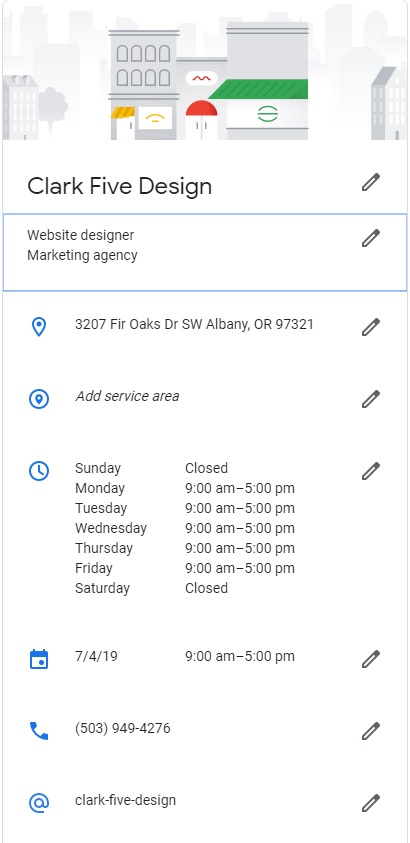 Get Amazing Professional Photos
No need to go one on one about the power of photos in attracting customers to your business. If you want to stand out on Google, get someone with a good camera and an eye for angle to take some stunning shots of your establishment.
Tip: Having people in photos is psychologically more attractive than empty spaces.
Local SEO is already hard enough to stand out in. Beat out your local competitors by submitting photos to your GMB page regularly as seasons change or as events take place. If you have a modern smart phone, your photos will even be geo-tagged, adding extra validation to your business.
One great local example is Bo & Vine of Oregon, who has concentrated on delivering a remarkable digital experience through visuals. Hats off friends!
Go Deep With Your Products and Services
Google wants you to list your products and services within the platform so that they can list your business when people search for those services but maybe not your category.
An example of this is when someone searches for "upholstery cleaning". You might be a carpet cleaning company, but you offer this service, so you'll want to still show up.
How do you write a Google My Business service description?
Describing your service is not as hard as you think. If your service has elements to it that are special, include them. An example of this would be eco-friendly cleaning solutions or same day denture impressions.
Remember to write your services in a way that both appeal to your customers and search engines. You can do this by thinking about words that describe what a customer would want.
If I were looking at a lawn care business online, reading a yard maintenance descriptions that includes details of cutting and trimming services, as well as the frequency of visits to maintain a constant beautiful lawn.
Systematically Ask For Google Reviews
The biggest ranking factor that is in your control are your Google reviews.
In my control? Yes.
Google reviews, for some businesses, happen naturally and often. However, for most businesses, you'll want to have a systematic way of asking for them both off and online.
What is so important about Google reviews?
Google has come out and said that it ranks local businesses when someone is searching for your services based on a company's prominence in the community. A major part of that are positive feedback from customers that had a good experience.
If your competition is boasting a four star review average but has 50 more reviews than you, they are probably going to hog the market by showing up above you in the search results.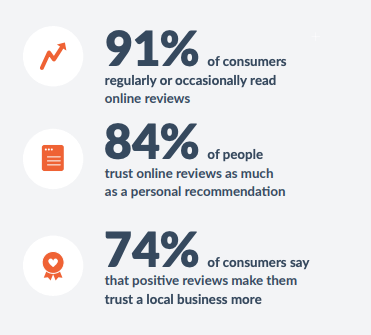 How can you create a customer feedback loop for reviews?
There are several ways that you can create a reputation management system for your company. The best ways that we have found include keeping customer service at the forefront of what you do, matched with an incredible service experience.
After that, collecting your customer's email and phone number will automate the process. However, person-to-person is an easy and cheap extra step.
You can train your staff to pass on information to the customer about how they can leave a review if they liked their service and contact information if they feel you did not meet there expectations. (This will deter negative reviews.)
The most powerful way to ask for reviews is by following up with the customer via text and email. This works very well for the businesses we work with because it puts less pressure on the customer and lets them immediately click towards the link to leave the review.
We set up fully automated reputation plans for small businesses. You can learn a little more about how to outsource this vital feedback loop in your business here.
Bonus: Make sure to respond to each review that is left, even negative ones. Always stay constructive and positive, never argue. Google will reward the two way communication effort.
Extra Google Love: Use The Posts Section
If you've done everything up until this point, you are a rock star that will start seeing some real results from the efforts, but you're hungry and want to dominate.
As an extra tip for Google rankings, use the posts section to offer customers offers, events, news and blog posts.
It's basically a free ad section and sends a clear signal to Google that you are an active business.
Also, it's becoming more and more important to Google that their users stay on the platform instead of going to your website. If this trend continue, you can rest assured that using the post section will attract attention more and more.
The value you get from this article will be the actions you take after reading it. Currently, Google My Business is arguably the most revenue boosting tool for small businesses online today that's completely free.
We're living in the "information age" and companies that chose to do business in modern ways will trend up, gain community awareness and ultimately meet their goals.
Along with a successful website, you're GMB strategy can be added to your arsenal of web assets for your business.
Don't set it and forget it
I know, you've put in a lot of work reading this lengthy article and implementing these tips, but your work isn't done.
The world of today demands fresh updates. Reviews within the last two week have the most impact, posting regularly tells people you're still relevant, updating your hours serves your customers through holidays.
In its most simple form, your GMB needs to be part of your monthly tasks.
You can always outsource these tasks, it may surprise you how little it costs.
This article was written in partnership with our friends at Greatness Digital, who specialize in lead generation, digital marketing and relentless innovation.